Details:
ACS SERIES WEIGHING SCALE
OPERATION MANUAL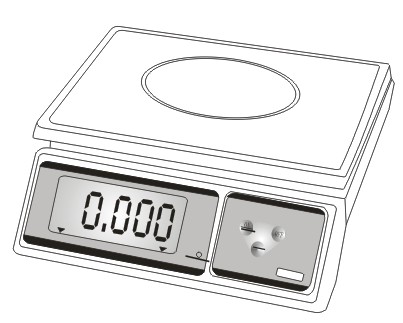 ACS series weighing scale operation manual
Function keys

Turn on/tare

Turn off

Mode(Select different weighing unit)
Parameter setting
1. Turn on the scale
2. Press MODE one time before the screen displays <zero>.

The screen will display a set of data which is <OFFSET VALUES>.
3. Press
to select the parameter.
4.Press

to select different settings.
A.Backlight
Backlight on

Backlight off
B.Auto shutdown

Auto shutdown on
Auto shutdown off
C.Weighing unit select
Weighing unit select allowed

Weighing unit select locked
D.Accurancy setting
Division 1/3000
Division 1/6000 or 1/7500
Division 1/15000
Division 1/30000
5.Press
to finish parameter setting.

Battery Status:
LCD Type:You can directly see the battery status on the screen when the scale is on.
(E.g .

four battery gauge,
two battery gauge)
LCD/LED Type:when the scale is on,press

and hold for 1s and then youcan see the
battery status,e.g,

indicates four battery level,

indicates two battery level.
Alam
Warning Message

Cause

The screen displays ----overweight

Overtop the scope of weight(over 9 divisions)

The screen displays <Err>

The gross weight beyond the max weight of sensor

The battery mark flashing

Or LED low power light lights

Not enough power
Charge notice
The scale have battery protection function.When the power is low,
the scale will be turned off automatically.If do not charge in time,
the scale will automatically shutdown in 30s after restarted.When
you charge the battery,please connect the adaptor cable(DC9V/5mA)
with the scale socket,the pilot light will light up.(If the scale is not
intened to usefor long time.Please charge the battery every three
months).It will need 8-10 hours to full charge the battery. You can
see the charging status according to the charge pilot light.
| | | | |
| --- | --- | --- | --- |
| Color of the pilot light | Red | Orange | Green |
| Charging percentage | 50% ~80% | 80% ~90% | 90%~ 100% |
Attention
1.When using the scale, please locate the scale on a flat surface,avoid shaking,
dropping,or otherwise shocking the scale.Keep the scale away from water,and
do not let water flow into the scale.Please use wet cloth to clean the machine surface.
2.Please charge the battery when the indicator shows low power.If the scale is
not intended to use for long time,please take out the battery in case of damage.
3.Please place the scale under the temperature of 0C-40C to avoid lengthy exposure to
extreme heat or cold.